Upgrade and modify your Android device so that it has all the gesture features that will make it easy to use with the best 8 apps to control volume on Android.
With the launch of the iPhone X and its gesture features that simplify access to features to customize the actions of your device, the company Android has indicated that it will soon launch devices that will have similar functions.
However, the demands are not compatible with the expectations of loyal consumers, therefore, a wide variety of applications have been developed that allow you to incorporate the gesture system in Android devices and through these choose to quick access to special functions and modify the volume level to those required by the user.
Fortunately, in this article we have compiled a list with the best 8 apps to control volume on android so you can better control your mobile.
The best free equalizers for Android
These are the 8 best applications to control the volume on Android
Volume Styles
knobby
Sound Profile
Quick Settings
Precise Volume
Fluid Navigation Gestures
Bottom Quick Settings
Ultra Volume: Volume Panel
As promised, we present our list made up of the best 8 apps to control volume on android. With these tools you will have the freedom to modify the volume level in ringtonesalarms, configurations among other services.
Volume Styles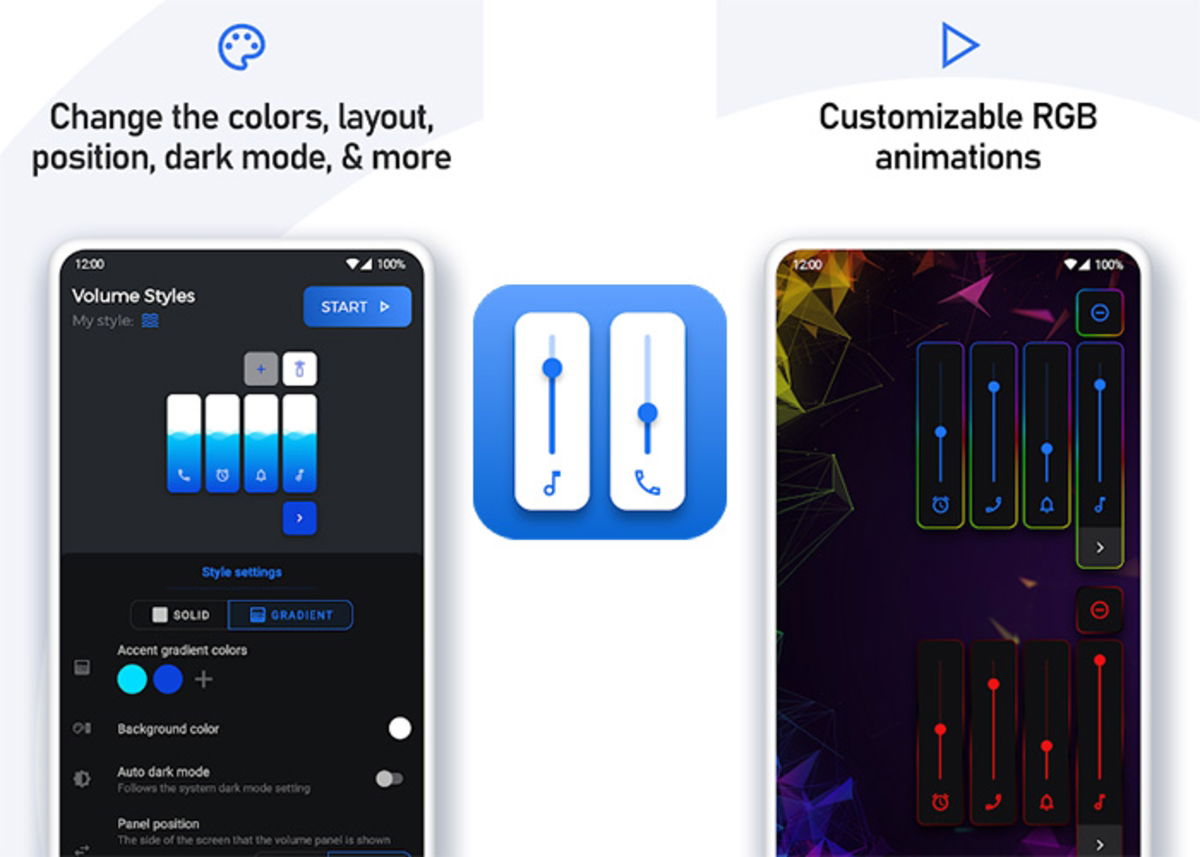 keep the control over audio functions on your mobile device. You will have at your disposal a sliding panel where all the apps and functions on your mobile will be reflected and with which you will achieve adjust volume intensity in each one.
Also, you can change panel colors and apply themes like iOS or MIUI or change the position, that is, you will have the total control.
knobby
Make your Android device perform advanced sound features and get a more modern image. knobby allows you to configure through gesture control, the volume on the various functions of the equipment such as ring volume, music, media, system, notification, or incoming call voice volume.
At the same time, it presents functions for modify the appearance of your mobile with themes and color changes that will give it a totally new look. It is a great option for adjust the volume without the need to resort to physical buttons and without leaving the applications.
Sound Profile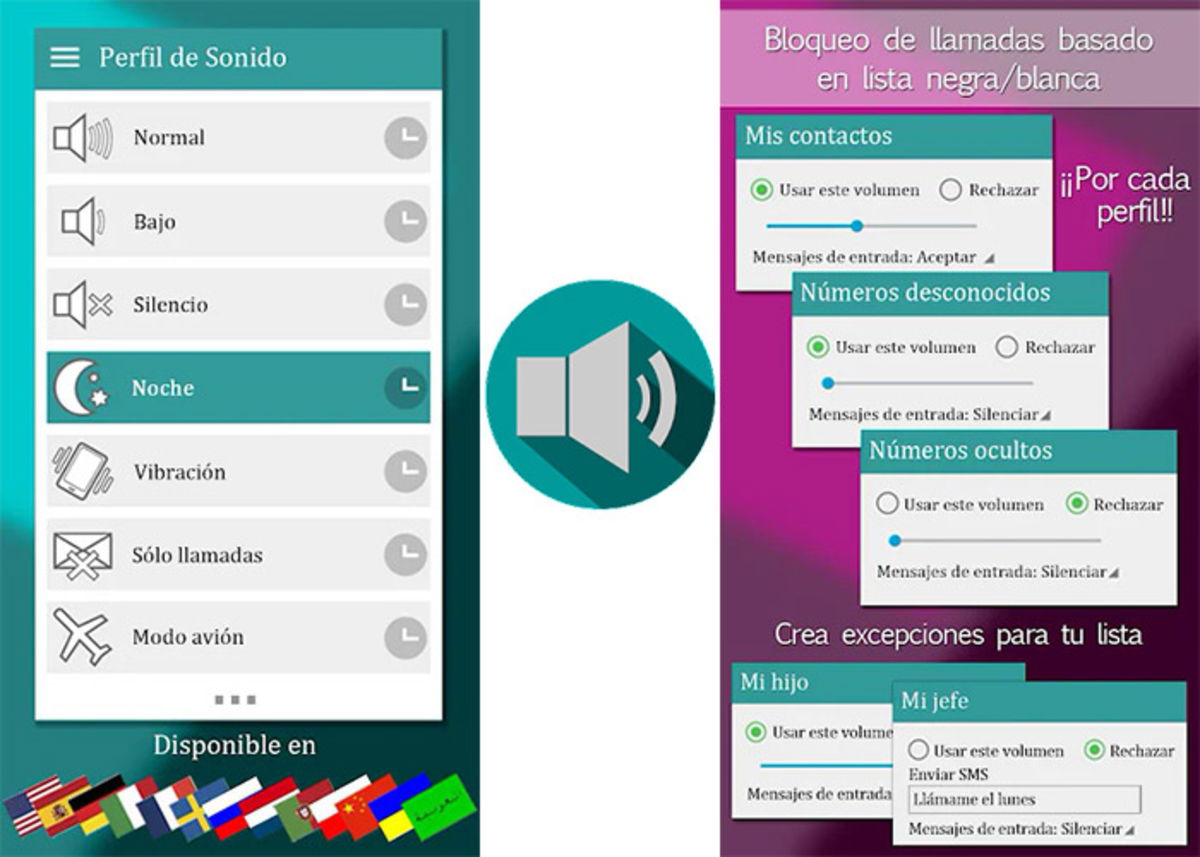 Sound Profile it is one of the best android volume control appsit allows you to organize and adapt your mobile to your itinerary. It has functions for set the volume about the multiple functions that the mobile equipment presents. Additionally you can create different profiles with modifications in the volumes.
If you wish, the app can automatically switch profiles according to the instructions you give it, that is, it will be able to connect to the vehicle profile once connected to its WiFi.
As if that were not enough, you can control the tone of incoming calls between wanted and unwanted, in order to always be available to your close relatives and avoid being interrupted by other calls. The app has topics linkable to profilesso you will know which profile is activated according to the theme that your mobile has.
Quick Settings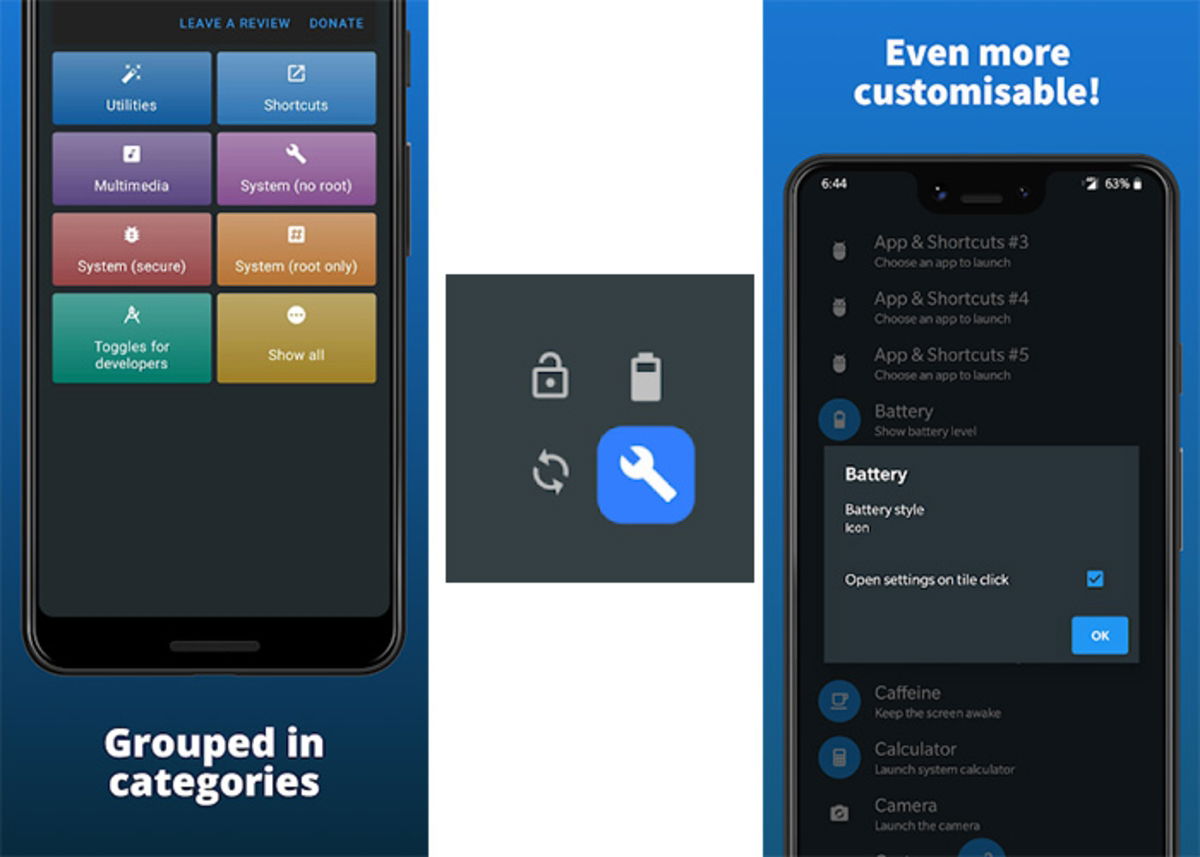 personalize the volume commands to your style through this app that enables navigation gesturesproviding shortcuts with 53+ quick settings of great interest and with an easy-to-use system.
This application does not support chinese romsLikewise, if you have MIUI, it is required that you have at least MIUI 10.
Precise Volume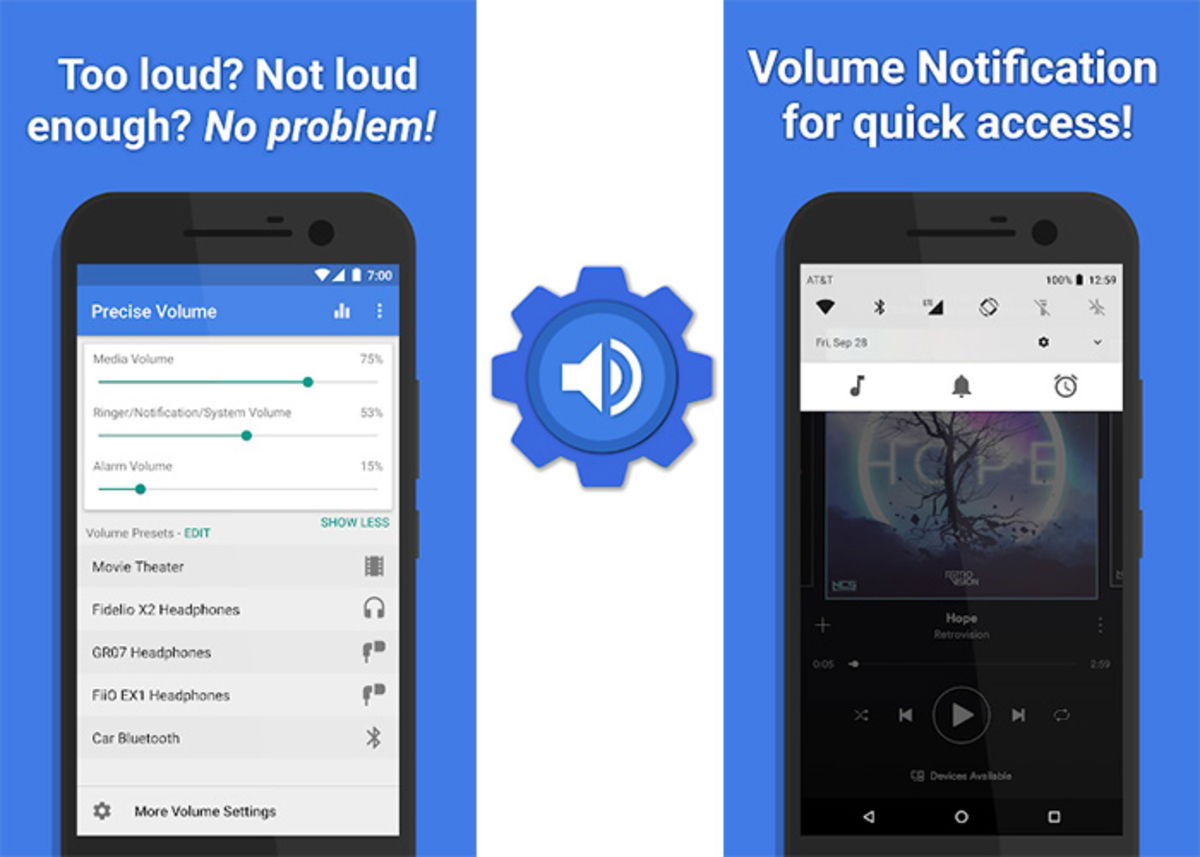 Android mobile devices normally have a limit of up to 15 steps, however, this application allows you to overcome that barrier and get up to 100 steps. In its pro version you can get 1,000,000 levels of precise volume.
On the other hand, you can adjust the volume of your headphones so that one sounds more than the other, or simply select the default headset, this thanks to one of its many mobile features and settings.
Another great app inspired by the Breccia concept. provides additional functions and quick access. Voice search, toggle split screen, open notifications, go home and many more features that will allow you to use your device faster.
Of course, you can count on the actions of setting on volume of the various team functions.
Bottom Quick Settings
Get a way to access superior mobile features and notifications without reaching out your hand using Bottom Quick Settings.
run special functions and shortcuts in a comfortable way by adjusting the desired position on the mobile screen and with the most pleasing colors. Enjoy a lower access bar, customization of styles in backgrounds and colors, quick assembly and many other functions that characterize this application.
Ultra Volume: Volume Panel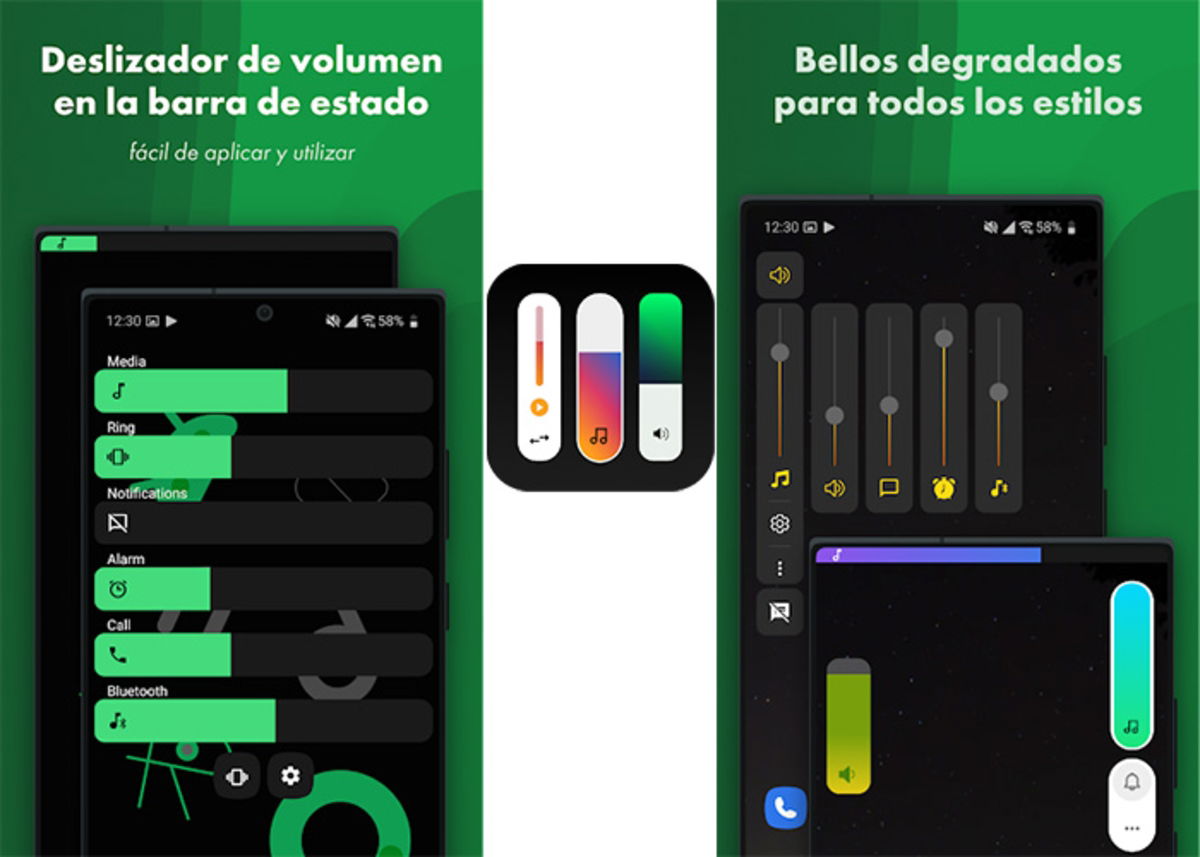 A great way to customize system volume in the various functions of your device with a style of aesthetic themes.
This is an app that provides a volume panel with which you can adjust the desired level in each function as ring, alarm, notifications among other actions, being a great alternative that replace volume slider on mobile. Makes simple gestures and execute functions quickly.
With all the applications that have been presented, you will undoubtedly achieve customize featuresembellish with themes and styles, and even set the volume in many of the functions of the mobile, to adjust to the dynamics of your daily life.
Don't wait any longer and explore all the benefits that this selection of best 8 apps to control volume on android present in our list.
Control the volume and vibration of your mobile's ringtones to the millimeter with this practical app
Related topics: Applications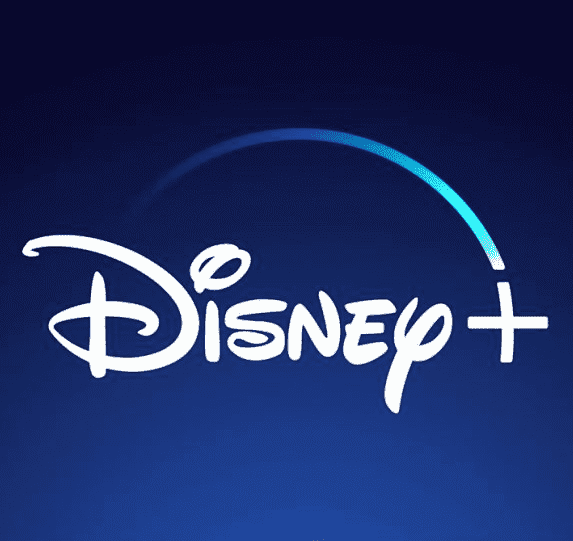 Sign up for Disney + for 8.99 euros and without permanence Subscribe to Disney+!