Touchscreen Lenovo Laptop is gradually becoming a new trend when giving users many modern features as well as flexibility in use. If you are looking to buy a touch laptop, do not miss the Top 5 products in the following article.
Summary of unique touch Lenovo laptops
Here is a summary of quality touch-screen Lenovo laptops, in order to create a unique and impressive experience that conquers many users.
Laptop Lenovo Yoga 6 13ALC6
If you are looking for a touch-screen Lenovo laptop in the mid-range segment, you can immediately refer to the Lenovo Yoga 13ALC6 laptop. Laptop with the ability to fold the screen 360 degrees so you can comfortably use the machine in 2 laptop and tablet modes.
You can also be assured of the durability of the laptop when the hinge is reinforced to help you open and close the laptop smoothly, durable with the number of folds up to thousands. Screen with sharp Full HD resolution, 13.3 inch size just enough to use Dolby Vision technology for true display.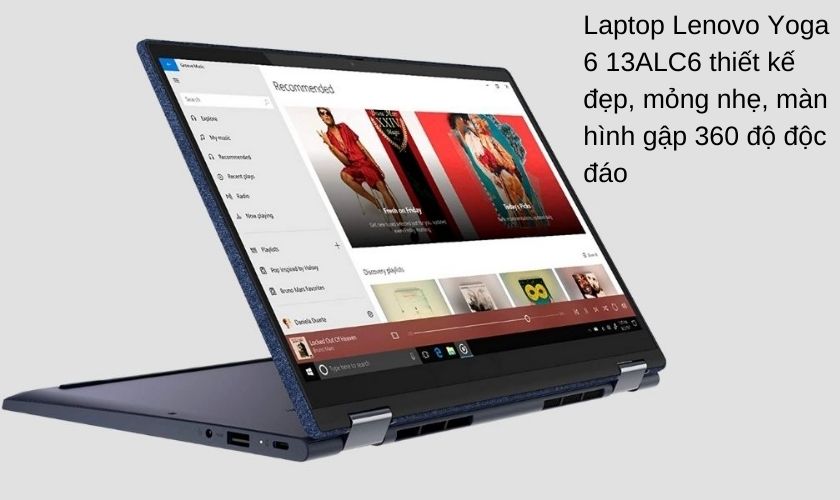 Besides, the configuration of the Lenovo Yoga 6 13ALC6 laptop is also very good with the Ryzen 7-5700U chipset and 8GB RAM, 512GB SSD smoothly handling all tasks. In addition, the laptop also has very good battery life with a 60Wh battery and a 45W charger for you to enjoy the laptop for a long time.
Laptop Lenovo Yoga Duet 7 13IML05
One of the lines Lenovo laptop touch The highlight not to be missed is the Yoga Duet 7 13IML05 laptop, which is also a unique touch laptop model with a breakthrough configuration from the Core i7-10510U chip, 8GB of RAM and a powerful 512GB SSD. With a powerful configuration, you can use the laptop flexibly and versatile from basic to advanced tasks.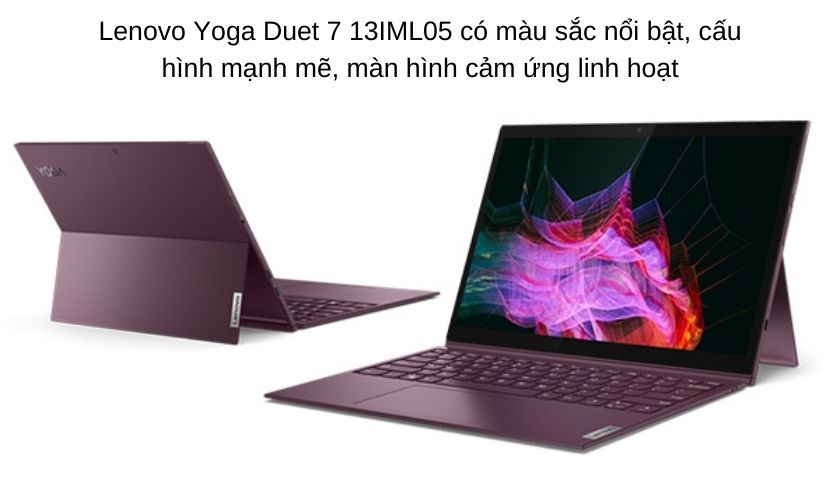 Not only possessing a strong configuration, the design of the Lenovo Yoga Duet 7 13IML05 laptop is also extremely delicate with an impressively thin and light design. The device also owns a personality pink purple color, attracting users at first sight.
Laptop Lenovo Yoga Slim 9 14ITL5
Slim 9 is definitely a touch screen Lenovo laptop from the Lenovo brand that you cannot ignore. Although the device belongs to the high-end segment, the features equipped are completely reasonable for the price.
The luxurious, thin and flexible design with a sturdy metal frame and high-quality leather back exudes the luxury of the device. Besides, Lenovo Yoga Slim 9 also owns an extremely sharp 4K UHD screen with Dolby Vision technology to optimize the display image.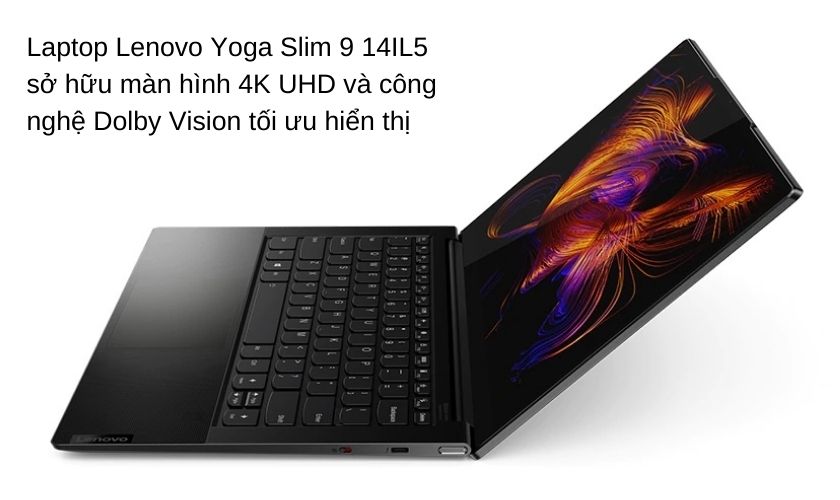 The machine has a powerful configuration when equipped with a chipset from the 11th generation Intel along with smart features, powerful 16GB RAM for optimal capacity. In addition, SSD hard drive up to 1TB for you to comfortably store as well as enjoy fast and smooth processing speed.
Lenovo Yoga 6 Touch Laptop 13ARE05 82FN0014VN
Yoga 6 ARE05 82FN0014VN also belongs to the Yogo 6 Series but has a lighter configuration than the 13ALC6 version. The device still possesses the typical design of the 6 Series such as a durable 360-degree folding screen, metal frame and high-class dustproof fabric back.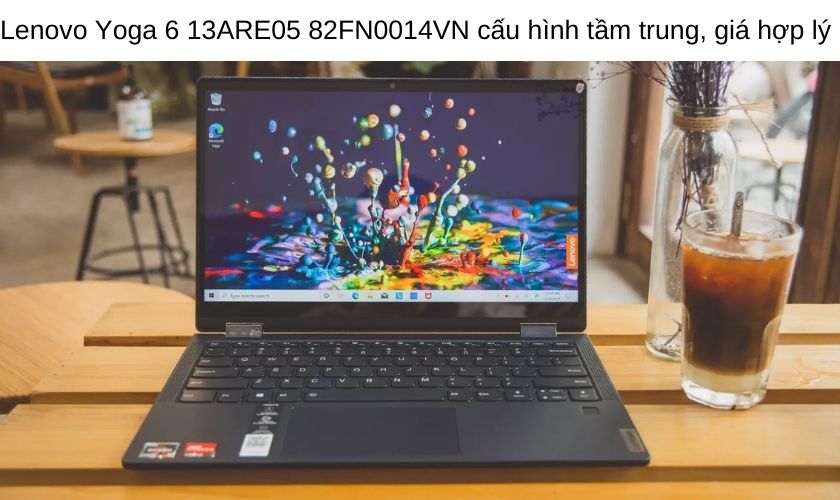 There is a slight difference in this version that instead of using the Ryzen 7 chipset, the machine is only equipped with a Ryzen 5 chip, but you can rest assured that the machine can still handle all tasks smoothly. Of course, with this version, the device will also have a more "economical" price.
Laptop Lenovo Yoga 7 14ITL5
Contributing to the list of top 5 touch Lenovo laptops is the Lenovo Yoga 7 14ITL5 laptop. The machine has a fancy moss green color, a 360-degree folding screen with sturdy hinges, easy to operate with one hand and a durable, solid metal shell.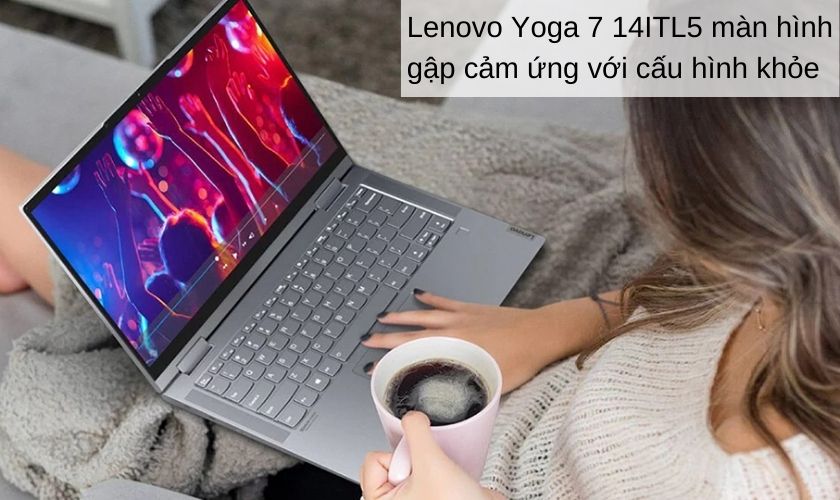 The machine has an impressive configuration with the 11th generation Intel chip for an impressive 4.7GHz maximum clock speed to provide a smooth, lag-free experience. Although the laptop has a thin and light design, it is still equipped with many more convenient connection ports.
Where to buy lenovo touch laptop?
With the top 5 touch Lenovo laptops we just introduced, have you chosen your favorite model yet? To ensure product quality, own genuine products at good prices, please contact CellphoneS immediately.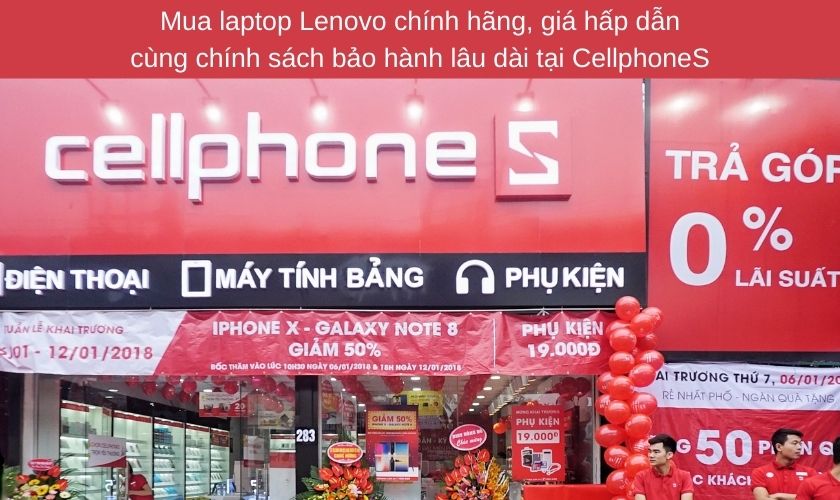 With many years of operation in the field, CellphoneS is the place to provide genuine products with excellent warranty policy, long-term warranty brings peace of mind to customers when shopping here.
Above is a summary of touch Lenovo laptops through the above article, which will hopefully bring you a lot of useful information and help you make the right choice!