Genshin Impact HoYoLAB – To be able to play Genshin, you need an email as proof of player ownership account. Similar to online games in general, the miHoYo developer requires players to do Genshin Impact account link them so they can do recover account if the account has problems such as losing or forgetting the password.
We are now officially on the platform Tiktok! Follow our Tiktok account at @gamebrott.com to find various information and our other interesting video content.
In addition, miHoYo also encourages players to do Genshin account link through the miHoYo/HoYoverse website and join the HoYoLAB forum using the same email. By doing account link their account on the website, players can get various attractive prizes every day.
How to Link Genshin Impact Account to HoYoLAB
Before we start the method, you must first have or know access to your own email account that is used to play Genshin Impact. After that you can start doing account link miHoYo or HoYoverse and join HoYoLAB with that account.
First of all, open the HoYoLAB website here, the Home website display will appear as shown in the picture.

Home View HoYoLAB

2

Login with miHoYo/HoYoverse Account

After that, click the circle icon like the slime icon in the upper right corner of the website as shown in the image below. Then click "Log In" on the available menu.

Click "Log In" to be able to login to your miHoYo/HoYoverse account

3

Enter e-mail miHoYo/HoYoverse

Then enter the miHoYo/HoYoverse email that you use to play Genshin. MiHoYo/HoYoverse accounts that have been previously registered can directly access HoYoLAB. If you have never created an account before, please click "Register Now" and fill in everything in the boxes such as Email and Password. Make sure the email you fill in is the same email you used in the game.

Display of Email Register for Genshin Impact Account Link at HoYoLAB

4

Genshin Impact Account Link at HoYoLAB Complete

Then follow the next procedure in the instructions. When finished, re-open the Home website and login to the same icon in the first step earlier. Then process account link you guys at HoYoLAB have done it.

Display when your account is registered
Various Interesting Features of HoYoLAB Genshin Impact
After doing the link, you can see the progress progress games Genshin the account you are playing. There are several interesting features that you can use, such as Battle Chronicle which is a note progress playing you guys from the beginning until now. In addition there are features Teyvat Interactive Map, Enhancement Progress, Traveler's Diary and the most important thing is Check-In.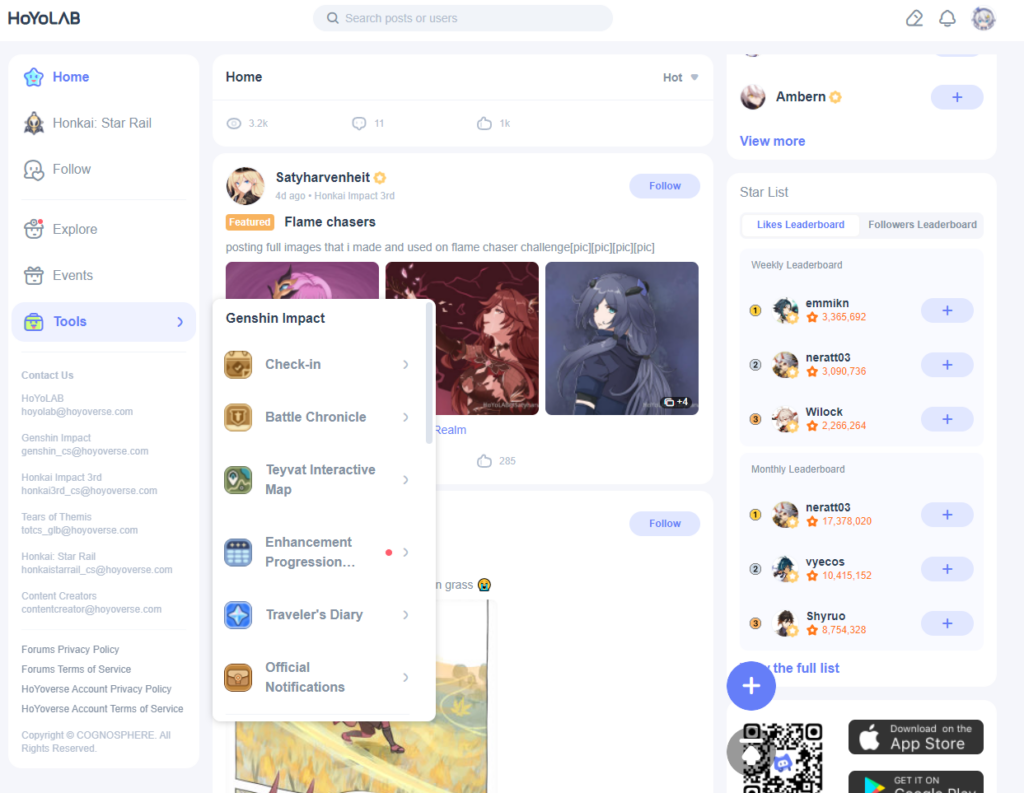 Daily Check In HoYoLAB
By checking-in the website, you can get various attractive prizes from miHoYo/HoYoverse. The prizes are Adventurer's Experience, Mora, Primogem and many more. This way you will be helped to collect Primogem by doing daily logins on certain days for 1 month.
Here's how to do Daily Check-In via HoYoLAB Login:
How to Check In HoYoLAB Genshin Impact
1. Login miHoYo/HoYoverse Account at HoYoLAB
Select the slime image icon in the upper right corner on the website as shown above and enter your email and password for your miHoYo or HoYoverse account used in the game Genshin.
2. Select Tools, Click Check-in
After you log in to your miHoYo or HoYoverse account, select the Tools menu which you can find on the left of the website and click the Check-in option as shown in the picture.
3. Click Items to Get Free Items Every Day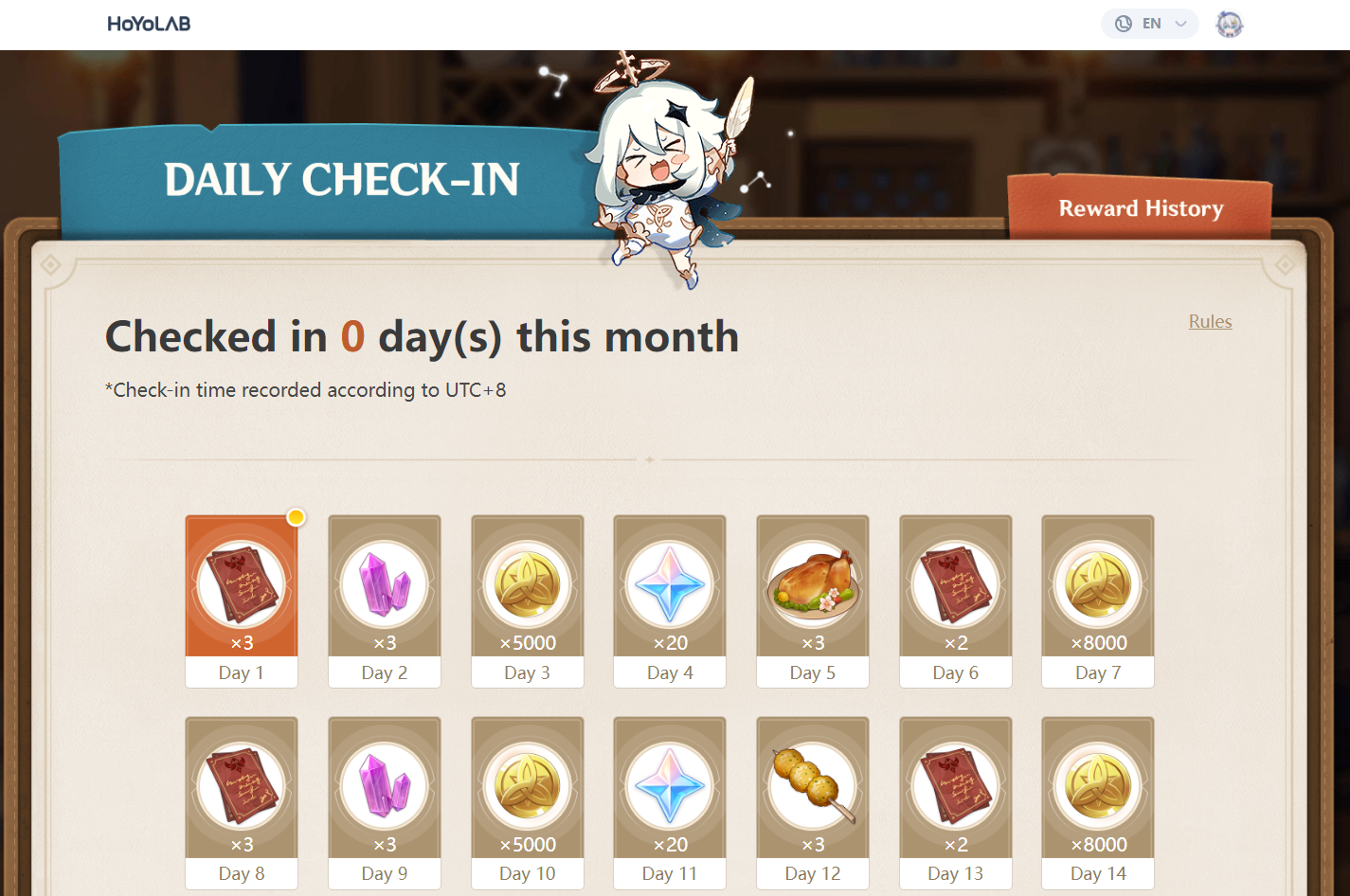 After that, click the item that has an orange circle on the Daily Check-In view. You can get various kinds items it every day with a reset time of UTC+8.
Fischl Wallpaper Calendar in May 2022
Talking about Genshin, miHoYo or HoYoverse have just released a calendar with Fischl as the latest model for May 2022 that must be a collection of gamers on this one. To find out more, you can read more through the Gamebrott article here.
That's information about how account link games Genshin and also the Check-In feature of the official miHoYo forum where players can get various attractive prizes. Hopefully this information can help you so that you can do it backup or recover game account Genshin so that bad things don't happen like losing your game account.
---
Also read other interesting information related to Game Genshin Impact or other articles from Muhammad Faisal. For further information and other inquiries, you can contact us via [email protected]