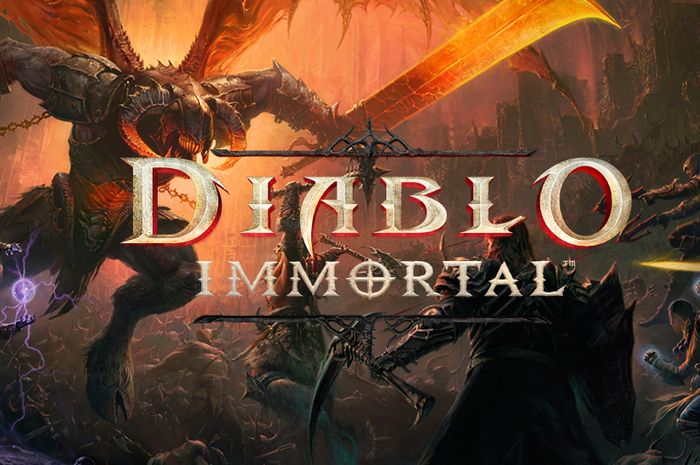 Blizzard
Diablo Immortal game poster
Good news comes from Blizzard Entertainment to all fans of the Diablo franchise.
Blizzard Entertainment has just announced the launch date of Diablo Immortal for iOS and Android devices.
Last April 25, Blizzard announced that the Diablo Immortal game will be coming to iOS and Android devices on June 2.
On June 2, Hell is everywhere.

???? iOS & Android
???? PC Open Beta

Pre-register: https://t.co/hKUMmROvQI pic.twitter.com/BoC4tDL7Kq

— Diablo Immortal (@DiabloImmortal) April 25, 2022
Also Read: Diablo Immortal Pre-Registration Period for iOS Opens, Promises Exclusive Skins!
Blizzard Entertainment first introduced Diablo Immortal at Blizzcon 2018.
Diablo Immortal is an MMORPG game that can be played for free or free-to-play.
Diablo Immortal was developed by Blizzard Entertainment as a very popular Diablo game franchise in the 90s.
This game is designed as a mobile game that can be played on iPhone, iPad, and Android devices.
Diablo Immortal Minimum Specifications
Reporting from the Diablo Immortal information page on the App Store, users must have a minimum of 3.1GB of storage to be able to install the game.
Then, the user's device must also be running iOS 11.0 and above to be able to download the Diablo Immortal game.
Unfortunately, there is no detailed information about which iPhones are supported by the game.
However, some rumors say that Diablo Immortal can be run on iPhone 8 or a newer generation.
Blizzard
Illustration of the game Diablo Immortal on iOS
Also Read: Apple Will Release Game Controller for iPhone and iPad, Peek at the Design
Diablo Immortal's Story Setting and Game Mode
Blizzard Entertainment revealed that Diablo Immortal will have a background story between Diablo II and Diablo III.
The unrevealed chapter in Diablo Saga takes place after Diablo II: Lord of Destruction.
Diablo Immortal players will traverse 8 expansion zones in their own "hell" style.
Based on the announcement from the App Store, there will be more than 3 classes in the Diablo Immortal game.
Later, players can create characters based on available classes to face enemies in Diablo Immortal.
The class names that have currently been revealed include the Barbarian, Necromancer, and Demon Hunter classes.
Also Read: Niantic Announces Game 'Peridot' on iOS, Can Keep Cute Virtual Animals
Blizzard offers both competitive and cooperative multiplayer modes, as well as external controller support for Diablo Immortal.
Cooperative multiplayer mode allows players to work together in order to face the challenges of the dungeon.
Players will be able to enjoy the cross-play and cross-progression features of the Diablo Immortal game.
This feature allows players to play Diablo Immortal games on Android, PC, and iOS devices with one account.
Mission and character progress will be synchronized automatically for the convenience of players.
Also Read: iPhone SE 2022 Gaming Review at Genshin Impact & PUBG Mobile, Smooth!
Currently, users can pre-order the Diablo Immortal game on the App Store for free.
Players who have pre-ordered will get the "Horadrim Cosmetic set" skin.
The skin can be redeemed after the player completes the game tutorial within a maximum period of 30 days after Diablo Immortal is released.
PROMOTED CONTENT




Featured Videos